For wine lovers and for those who want to combine a rural tourism getaway with wine tourism, Spain is the ideal destination. Altogether there are 70 denominations of origin of Spanish wines. Today, I suggest a short break in one of the world's most recognized and historical areas of origin: `La Rioja´.
Are you coming with us?
La Rioja is divided into three wine-growing areas:
Rioja Alta: An area with Atlantic climate, with the world's largest number of wineries per m2. The main grape variety of these wines is Tempranillo. These factors gives the Rioja Alta wines a greater body and acidity.
We recommend you to visit Bodegas Rioja Alta S.A. in `Haro´, where guided tours and wine tastings are offered.
Also interesting is the visit of the Wine Museum and the winery Dinastía Vivanco in Briones.
There´s no better way to finish your oenological weekend in one of our boutique hotels:
HOTEL-BODEGA FINCA DE LOS ARANDINOS:
This charming hotel is located in the village of `Entrena´, between vineyards and olive groves, and is the ideal place to enjoy the wine region of La Rioja.
With its own wine cellar, on the weekends wine tastings and group tours take place.
To round off the stay, guests are offered a wonderful spa area with a dynamic swimming pool with jacuzzi, cold water pool, Turkish bath, Finnish sauna, foot bath area and showers.
Do not miss to reserve in the restaurant `La Tierra', you will love the traditional La Rioja cuisine!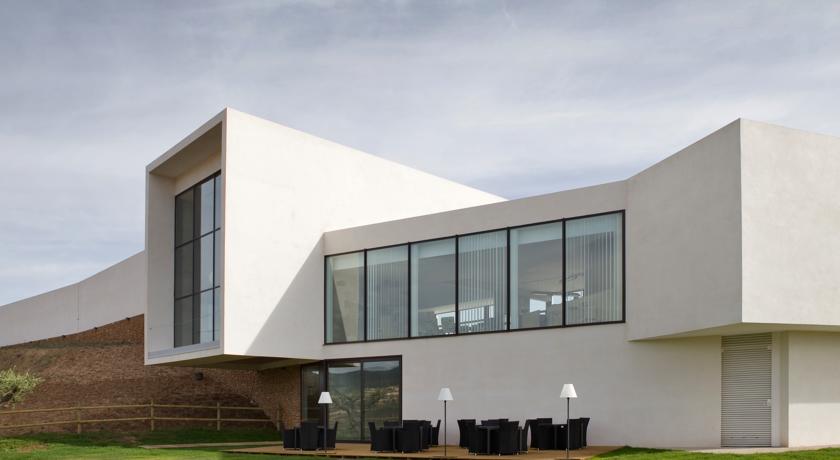 Discover La Rioja at the Hotel – Bodega Finca de los Arandinos.
La Rioja Baja: Area with a Mediterranean climate. The predominant grape variety for reds is Garnacha. They are wines of higher graduation.
In La Rioja Baja you can visit Bodegas Nubori, with guided tours and wine tasting. Suitable place also for families, with grape juice samples for the small visitors.
La Rioja Alavesa: Area with Mediterranean and Atlantic climate, with the main variety Tempranillo, both together giving the wines a medium degree of acidity.
Particularly noteworthy is the Marqués de Riscal Winery in `Elciego´, with its impressive building by the star architect Frank O. Gehry, which also houses this luxury hotel:
This avant-garde luxury hotel offers spectacular views from each of its rooms with large zig-zag windows, unsymmetrical rooms and modern, functional furnishings.
If you want to round off your culinary delights, it is advisable to reserve a table in one of the two outstanding hotel restaurants:
The `Marques de Riscal restaurant´, awarded with a Michelin*, offers a cuisine in constant innovation with products of outstanding quality. Equipped with in-house wines of the estate as well as wines from all over Spain, and with more than 200 international references.
The `Bistro 1860´ restaurant serves traditional Spanish cuisine with modern touches.
The spa offers a variety of treatments with wine therapy as well as a heated indoor pool, jacuzzi and hammam.
Wine tourism in La Rioja at the luxury hotel Marqués de Riscal.
18 km from `Marqués de Riscal´ we offer you also this charming hotel:
This boutique hotel is set in a 17th century palace with a romantic garden with terrace and swimming pool.
The hotel rooms are classic, with wooden ceilings and furniture, as well as beautiful four-poster beds, the bathrooms have hydromassage bathtub or rain shower.
For a relaxing time, a small spa area with jacuzzi and Scottish shower is available.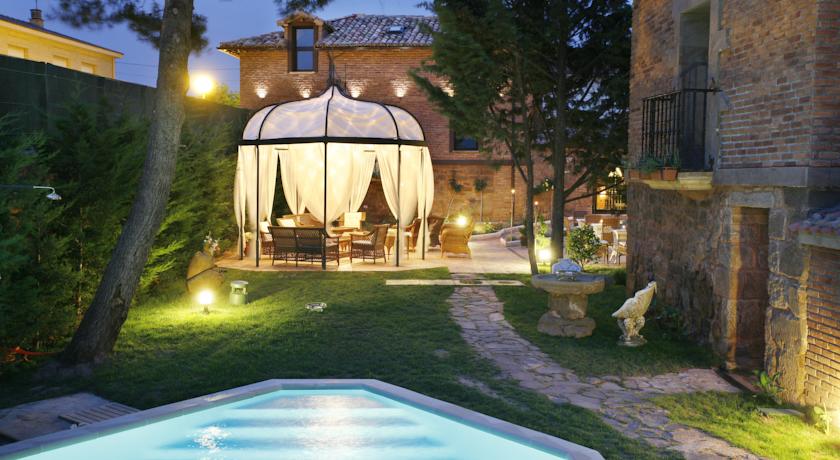 Book your stay at the Boutique Hotel Real Casona de las Amas.
Do not miss to visit the beautiful walled village of `La Guardia´ in Rioja Alavesa, which preserves its entire stone wall with five doors that will open the access to the village.
In La Guardia you should definitely go to the winery Bodegas Palacio, which invites you to visit its winery and offers wine tastings.
On our oenological route through La Rioja in this post, I deliberately highlighted the Rioja red wines as they make up 85% of the wines produced there.
The grape varieties for the white wines from La Rioja are `Macabeo´,  `Malvasía´ and `Garnacha Blanca´.
Rioja wines of these years are distinguished as outstanding wines: 2001/2004/2005/2010/2011.
Here are the recommendations of Robert Parker for the best Rioja wines:
We look forward to your feedback and suggestions for future wine routes.
Discover more boutique hotels in La Rioja.